Bleugenius Hemp Strain Review
A relatively new player, the Bleugenius hemp strain is one of the growing CBD hemp variety. With significantly more CBD and a remarkably low THC content, this cultivar poses as a go-to solution for users who want nothing but the therapeutic benefits of hemp whenever they take a toke. Strong yet controlled, the Bleugenius cultivar promises fast-acting, long-lasting effects that won't tranquilize or intoxicate with its perfectly balanced cannabinoid profile.
The Origins of the Bleugenius Strain
The Bleugenius strain hasn't been around for such a long time, but nonetheless, it has earned quite a strong patronage because of its unique genetics. Even then, the Bleugenius strain doesn't have a very well documented family tree. Bred by Eugenius, all that the cultivators behind the herb have stated is that it comes from two high CBD strains as well.
Presently, there are only a handful of CBD-centric hemp cultivars on the market. But even then, each one demonstrates almost identical genetics. So, it can be tough to really figure out which ones are involved in the Bleugenius family tree. However, some experts suspect that there might be more than two parents that joined together to create this distinct CBD strain.
Aroma and Appearance
Bleugenius gets its name from its breeder, but despite that, it does showcase an impressively cool, bluish colorway that's easy on the eyes. Frosted in a thick layer of tirhcomes, the Bleugenius herb shines through with a delicate bluish undertone that mellows out its green foreground. This create a much cooler aesthetic, giving the nugs a cold vibe that might just be the reason why you choose her out of a lineup.
As you tell your budtender to pluck the Bleugenius off of the shelf, its glistening trichomes will glimmer in the light and showcase their beautiful density with absolute pride. And when you finally lift off the lid, the scent that comes from the jar consumes the entire space with its potent power. Strong and overpowering, the herbal, fruity, zesty fragrance that swirls from the leaves lets you easily pick out the each element that makes up the entire aroma.
Experience and Effects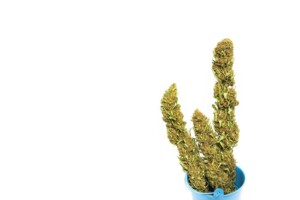 While the aroma might scream zest and fruit and herb, the taste isn't quite the same. The thing about the Bleugenius is that when it finally turns to smoke, it tastes more like burning bark and leaves. The grassy flavor might fall short of your expectations, especially after the kind of aromatic encounter that it takes you on. But the taste isn't where the magic happens.
The Bleugenius herb delivers a soothing, relaxing wave of calm that washes away all of your worries and stresses. Within minutes of taking a toke, this herb allows a powerful sense of well-being to take over your body by releasing negative energy and uplifting your mood. Perfect for individuals who struggle with all sorts of feelings of unwell, the Bleugenius herb is typically used to combat poor appetite, high levels of apprehension, feelings of motion sickness, stress overload, and physical aches and discomfort, to name a few.