Vance Global is a marijuana brand known for its top-quality and highly potent CBD and Delta-8 THC joints and gummies. The Milwaukee-based company was founded in 2018 by two innovators: Brandon Marshal and August Battles. Its overall objective is to create high-quality products made from all-natural grown ingredients.
Vance Global sources its legal hemp flowers primarily from licensed growers in Oregon and Wisconsin that use zero pesticides. Besides using all-natural ingredients on its products, the company also uses biodegradable packaging. This is one of the reasons why it stands out from the competition.
Although the company is a newcomer in the cannabis market, it seems to have a dedicated fan base with products sold in more than 250 stores. The small product line demonstrates a focus on the highest CBD grade that is all-natural. It has informative blogs filled with valuable information about everything you need to know about Delta 8 and CBD products. That is why many people find it easy to shop at Vance Global.
Top Products From Vance Global
Vance Global sells two types of CBD cigarettes:
All-Natural Blend cigarettes
PURE CBD cigarettes.
The All-Natural Blend CBD pre-rolls come close to perfection. They are made using naturally grown hemp, organic lavender, and natural papers. Even the packaging is eco-friendly. Each pre-roll is balanced with 100 mg CBD flower and 50 mg delta 8 THC. A pack of the all-natural blend goes for $ 9.99.
Because each pack contains 10 cigarettes, this makes for a total of 500 mg THC and 1000 mg CBD per pack. Each pack ensures you're smoking nothing but the highest standards of potency, purity, and safety.
The company's PURE CBD cigarettes enjoy a tribe-like following from cannabis enthusiasts. They contain organic hemp leaves rolled in natural hemp papers along with a biodegradable filter. Each pre-roll has 150 mg CBD.
Both the all-natural blend and pure CBD cigarettes don't exceed the 0.3 percent THC limits as per federal guidelines. Ultimately, smokers can enjoy an unadulterated CBD smoke session without the negative effects associated with tobacco cigarettes or marijuana joints.
Buyers also order a lot of Vance Global delta 8 THC gummies. They are easy to consume while on the go. Each gummy contains 50 mg delta 8 THC. With a bag having eight gummies, this makes for 400 mg delta 8 THC for every bag.
The company's online shop also sells apparel items, like Vance Global T-shirts, hoodies, and face masks. It also carries limited-edition handmade merchandise, such as ashtrays, pot grinders, and rolling trays.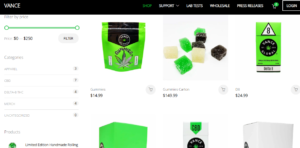 What People Are Saying About Vance Global
Vance Global products are not only popular with customers seeking the marketed benefits of cannabidiol. They're also sought after by those looking for an alternative to the traditional cigarettes laden with addictive nicotine.
Most buyers have given positive reviews of the company's cigarettes. In fact, a huge percentage of consumers rate their purchases with either five stars or four stars. A few complain about the taste, but most give it a thumbs up. This proves how Vance Global generally satisfies the expectations of most customers, if not all of them.
That said, here's why many customers love Vance Global products:
The signature lavender taste: Most customer reviews about Vance Global products mention how the rolling hemp paper burns smoothly, emitting the signature lavender taste.
An alternative to traditional cigarettes: A huge chunk of buyers cite how the PURE CBD pre-rolls have made them get off nicotine and tobacco. This is because hemp cigarettes deliver an unadulterated smoking experience, unlike traditional cigarettes.
They're eco-friendly: Consumers who love environmental conservation laud these little eco-friendly products. The wood fiber filter in specific disintegrates in about 17 days, so smokers can have no guilt feelings of polluting the environment.
They're affordable: The affordable pricing of the products is also a recurring compliment among the users. For just $12.99 and $9.99, you get a pack of 10 PURE pre-rolls and 10 All- Naturel Blend pre-rolls, respectively. Also, the free shipping on all orders within the U.S is an attractive proposition for most buyers.
Vance Global Company Coupons and Discounts
Like other best-selling brands, Vance Global offers coupon codes and discounts for buyers to save money when shopping at its website. Currently, buyers can enjoy up to 22 percent off on their orders. To entice consumer demand, the site also offers different types of coupon codes, including Black Friday, Cyber Monday, Printable coupons, senior discounts, and military discounts.
On average, shoppers at the online shop save almost 20.3 percent on purchases thanks to coupons. New coupon codes and discount offers are offered almost every month, so it's always prudent to stay on the lookout. You can subscribe to the company's newsletter to get all the information on the latest updates and special deals.
Vance Global Legal Compliance
Vance Global complies with all state and federal stipulations governing cannabis products. Particularly, all its CBD products are derived from the hemp plant. It also contains traces of THC, which don't exceed the 0.3 percent threshold stipulated by regulatory agencies. Furthermore, all products are certified by at least three independent, third-party laboratories to prove that the company only uses high-grade CBD.
Instead of the conventional infusion process, Vance Global has adopted a superior proprietary production process known as HADTI, which uses no additives, heavy metals, and solvents. As a mark of full transparency, all its products have labels indicating the lab test results.
The website also makes it super easy to browse all legal policies on privacy, shipping returns, refunds, and terms of use. This clears all doubts concerning the brand's authenticity and legal compliance.