Industrial Hemp Farms
April 25, 2020
Marijuana Strains
Comments Off

on OG Kush Cannabis Strain Review
A legendary strain in the greatest respects, the OG Kush cultivar is the forefather of many a great CBD strains of recent decades. It's delicate, complex, and mind-blowing genetic makeup has led OG Kush to produce many famous great strains like the Tahoe OG, Alpha OG, and many other OG phenotypes that have become prominent in their own respect. Considered the foundation for a large branch of cannabis strains we know and love, OG Kush has cemented itself as, well, the original gangster.
With its sublime heady high and solid couch-lock, this hybrid strain has secured its legacy as a top-shelf cannabis variety both for CBD users and cultivators alike. And of course, with its long-standing reputation and intense effects, you can expect most veterans to vouch for OG Kush's distinct profile.
Origins of the OG Kush Strain
The OG Kush cultivar traces its early origins from Florida during the first half of the 90s. But since its conception, the OG Kush strain has traveled far and wide, moving from the west to east and earning for itself a remarkable reputation. In fact, you might be hard-pressed to find a dispensary that doesn't carry the strain, since it's become such an iconic name in the market.
This strain is believed to have been derived from the Hindu Kush landrace and an unknown strain from California. The Hindu Kush is a pure Indica strain whose origins can be traced back to a 500-mile mountain range between Afghanistan and Pakistan. The harsh climate of its origins had profound effects on this strain to produce a thick trichome jacket. And it's this crystalline coat that has been highly sought after by hashish makers worldwide. That's why Hindu Kush is also one of the most popular landraces across breeders in the United States.
The other half of the OG Kush combination remains a mystery to even the most respectable CBD historians. Some say one of the parent strains of OG Kush was the Chemdawg. Also a hall-of-famer, it would be no surprise if such a potent pedigree formed the legendary components of the OG Kush. However, there is not enough evidence to solidify this claim.
Aroma and Appearance
Once you get smacked with OG Kush's aroma, you might very well feel like you're one with nature. Sporting earthy and spicy scents with lemon and lime accents, this cultivar offers a wonderful aromatic experience. The delicate scent gently caresses the olfactories, sending you swooning as the swirls of fragrance embrace your senses.
 This is a short and bushy plant that is characteristic of Indica-type strains. It has medium to large clusters of buds with yellowish-green colors. Depending on the climate, the color may be accentuated with traces of purple. Orange tendrils known as pistils sprout from about the base of the buds, adding a touch of well-desrved contrast and texture. And of course, there's the silvery coat of trichomes that covers the exterior for added dramatic effect.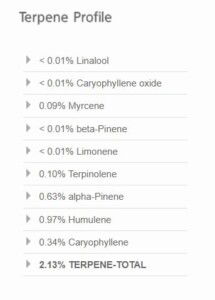 Experience and Effects
If there ever was a power puncher among the CBD strains, it would be OG Kush. Many a CBD connoisseurs have sworn by the OG Kush's reputation as one of the most potent strains out there. For the initiated, get ready for a to be elevated to new levels. It first starts as a head focused high with an increased attunement to your surroundings. Colors start to pop and sounds have a striking clarity, helping you appreciate every little detail of the world around you.
The mood effect of the OG Kush lends itself well to social situations. It is a uniquely social strain and is particularly well-suited for small gatherings and lively discussions with your friends. There are no mind race effects whatsoever, so there's no need to worry about accidentally sharing personal, potentially embarrassing information.
 As much as the potency of the OG Kush leads to such a great high, it can also produce some less than desirable effects. The smoke from the OG Kush can be rather harsh and cough-inducing. Additionally, it can be heavy on the sinuses and cause the eyes to water. For trouper users, the often undesirable effects can be a wonderful reminder of classic cannabis strains from the early 90s.
It's best to start with a mild dose when using the OG Kush herb. This is as potent as potent they get, so try to manage your dose to avoid overdoing the experience. Safe use of this cultivar entails knowing your limits and staying within your boundaries. Novice smokers, you have been warned.
Growing and Processing
The OG Kush is a challenging plant to grow but initiated CBD cultivators should aim to master growing this all-time fave. As the demand continues to be high for top-shelf OG Kush the world-over, any meaningful cultivator should aspire to keep their dispensary stocks full.
OG Kush is most conveniently grown indoors. As it is a short and bushy plant, it will entail you continually be topping off the plant. This optimizes light and air access to lower buds ensuring the quality of their growth. Do note that the plant is particularly sensitive to mold, mildew, and other common cannabis plant diseases. Keeping an eye out for the development of such problems should help you curb the risk. It also doesn't hurt to make sure you're avoiding humidity as much as possible.
With enough patience and effort, you should see the seeds turn into full grown, mature plants within about 6 to 9 months. Each individual cannabis plant should produce around 16 to 18 ounces of bud each.
Who Is It For?
No well-meaning CBD connoisseur can call themselves such without having tried their hand at the OG Kush. Veteran smokers looking for one of the most glorious marijuana encounters  on the market would be doing themselves a favor by a taking a drag of this iconic herb. Novices and newbie smokers don't all qualify to take the strong cultivar. For low tolerance users, beware – the stuff does leave a nasty, cough-inducing sting in the throat.