Industrial Hemp Farms
April 17, 2020
Marijuana Strains
Comments Off

on Canna-Tsu Cannabis Strain Review
Canna-Tsu is an especially popular strain throughout the United States, but it's often of particular interest to those in the West Coast. It is well-loved for good reason, mainly because of its soothing body-centric effects that help to mitigate all sorts of discomfort. Deliver a full-bodied high, this herb makes the body feel calm and relaxed. It provides a soothing feeling from head to toe, lending gentle cognitive effects to boot – perfect for those who might deal with restless thoughts and apprehension. Definitely, the cultivar's effects can be a wonderful, welcome respite from feelings of discomfort and worries of the mind.
For those that are looking for a recreational strain, Canna-Tsu also offers an uplifting and euphoric encounter. The easy effects guarantee a stress-free experience each time. At the height of it, the herb promises to keep you feeling unconcerned, carefree, and lighthearted. And with these well balanced effects, there's no wonder why this cultivar has made its way to many cannabis stashes nationwide.
Origins of the Canna-Tsu Strain
Canna-Tsu's name comes from the cross of two well-known hybrids, Cannatonic and Sour Tsunami. It is an equal balance of indica and sativa so harmoniously blended that produced this unique strain. What's intriguing however is the lack of knowledge as to where the herb first came from. Without any breeder coming forward to claim rights to this glorious pedigree, the subtle mystery has definitely added to Canna-Tsu's appeal.
Sour Tsunami is a CBD-dominant strain that packs a powerful cannabinoid punch. The calming herb swims through to the indica side of the genetic pool. Combining herb, pine, and citrus, the Sour Tsunami cultivar offers a delectable flavor that swirls together the sweet taste of chamomile and mint tea with a sharp jab of fresh lemon.
Cannatonic on the other hand, gets its name from the fact that it delivers a strong soothing effects. Another CBD-dominant cultivar, this herb brews together the taste of spices and herbs, mixed with a gentle gasoline bitterness on the finish. While it does come in a variety of phenotypes, the Cannatonic's flavor and effects remain relatively unchanged across the subtle varieties that it may produce.
Aroma and Appearance
Canna-Tsu has small, dime-sized buds. Its flowers are dense with thin yellow-orange pistils, all blanketed in a beautiful sheet of dense trichomes that make the nugs look like they were rolled in confectioner's sugar. Needless to say, the delicate exterior also makes the bud look as though it were painted in a glossy, silver substance for added sheen.
Sour Tsunami's parentage gives the herb pungent, sour aroma that will rouse your senses and awaken your system. It is a refreshing scent that gives a slight tingling sensation every time you take a whiff. Aside from citrus, it has undertones of herbal, woody, pine, spice, and even sweetness. All together, these various elements blend together to create a glorious olfactory encounter that can have you gratifying your snout for hours.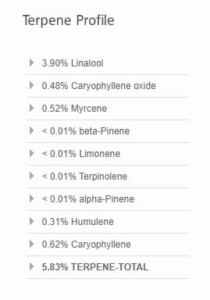 Experience and Effects
Users often say that Canna-Tsu has a very smooth smoke regardless of how you like to enjoy your bud. That said, low tolerance users who aren't too accustomed to thick, itchy smoke will find that the Canna-Tsu strain delivers just the perfect throat texture for a cough-free toke. It's also worth mentioning though that this herb isn't exactly for those who are interested in getting locked to their sofa or running around for hours. Balanced and mellow, the Canna-Tsu cultivar delivers a controlled encounter that won't put your mind or body into submission.
Those who choose to take a toke will find themselves relatively prepared to face a day's challenges without interruptions from either mind or body. So if you were hoping to relax and unwind, and simply let go of the cares and troubles of everyday life, then a drag or two of Cannat-Tsu should be in order.
Growing and Processing
Canna-Tsu is a friendly plant to grow even for beginner farmers. It's resistant to diseases, mildew, and mold, and because its short and bushy, it also proves to be a relatively easy strain to top and prune. Snip a few branches and leaves off of the tops every so often to guide the growth and encourage denser clusters for maximum flavor and aroma.
When grown outside, Canna-Tsu has a medium yield of about 11 ounces per plant and is projected to harvest in October. Indoor growers will need a low humidity environment and typical lighting setup for heat-partial cannabis cultivars. This setup gives an expected 9 to 10 weeks flowering time and a yield of 13 ounces per square meter planted.
Who Is It For?
Offering well balanced effects, Canna-Tsu is a strain that's friendly to virtually anyone. Although some more experienced veterans and connoisseurs might find her mild effects to be a little lackluster, beginners and novices can find suitable purpose and satisfaction in its delightful impact. Nonetheless, if you're in search of a solid, stoner experience, then you might be better off looking into more aggressive strains with potent chemistry.
For the most part, Canna-Tsu can work wonders for those who simply want to release the stresses and problems of everyday life without having to succumb to excessive tranquility or exceeding levels of energy. The perfectly blended indica-sativa effects leave you fully conscious, lucid, and capable, so there's no need to worry about whether or not you'd be able to accomplish the many different responsibilities you have lined up for the day.
All that said, it comes as no wonder why Canna-Tsu has earned such a positive reputation throughout the marijuana market. Leaving you completely aware of your surroundings, in control of your thoughts, and full capable of moving around and doing what you usually do, Canna-Tsu's effects can be encapsulated by the description 'you, but better.' Thus, anyone looking for a controlled and collected marijuana experience that doesn't overwhelm the system, then the waves of Canna-Tsu should be a perfect solution to satisfy the craving.