George Mouratidis
March 29, 2020
Marijuana Strains
Comments Off

on Blue Cookies Cannabis Strain Review
The result of a blissful union, Blue Cookies is basically cannabis royalty, brandishing indica-leaning properties that make her nothing short of a showstopper. The beautiful, aromatic nugs are densely packed, and carry with them the genetics of cannabis royalty. So much so, that discriminating veterans and hardcore cannabis connoisseurs are often impressed with the bud's enthralling effects.
Sweet, subtle, and immensely soothing, the Blue Cookie strain engages mind, body, and senses in a consuming experience that touches every part of your being. With its delicate blend of sweet and bitter flavors, this herb is guaranteed to make it to the top of your list of cannabis favorites.
Origins of the Blue Cookies Strain
Not to brag, but the Blue Cookies strain comes from a pretty high-profile lineage. The son of two celebrity strains, a part of Blue Cookies' success comes from the fact that its parents are some of the most well-known strains in the market. The first is the iconic Girl Scout Cookies, and the other is the smooth Blueberry indica.
Having been around for decades, the Girl Scout Cookies strain – or simply GSC – is the genetic backbone of the entire Cookie family. Its decadent blend of earthy flavors mix with chocolate and sweet cookie dough to create a truly memorable flavor encounter that flirts with the taste buds. But its effects ultimately take center stage, bringing you through a calm, collected sense of relaxation that melds with a minor buzz to keep you awake and fully lucid.
Then of course, there's the delicate Blueberry strain. The result of an experiment, Blueberry brings together the properties of two potent landraces, perfectly encapsulating the hypnotizing effects of a potent indica leaning strain. It also lends it delicate fruity berry flavor to the mix, giving Blue Cookies that jab of tang that can make you want to chase after the caress of sweetness with another drag.
Appearance and Aroma
Blue Cookies' frosted pallor is something it inherits from its Blueberry ancestor. The golden-green nuggets look like they were scraped off of the body of a mystical forest-dweller, crusted in the dried, sticky resin of a dense coat of trichomes. The delicate white fuzz covers all of the surfaces of the compact nugs, giving it a crystallized tinge that adds to the strain's overall whimsy.
The Blue Cookies' nose is subtle yet delightful, toying with your senses by way of its gentle fruity, berry aroma that embraces the olfactories – but not quite. As you dig your snout into the jar, Blue Cookies' pleasantry can draw you in then disappear, making most of those who encounter its delicious pastry-like aroma want to continue diving in.
Experience and Effects
The heavy-handed indica effects of the Blue Cookies strain can be especially soothing, cradling you off into a calm collected euphoria. The experience kicks off with a decadent blend of rich, thick flavor, almost like stuffing your mouth with mildly bitter cookie dough. At the forefront of the taste encounter, layers upon layers of sweet blueberry come raging at your taste buds, caressing your tongue in delicate sugary goodness.
The smoke passes through your system, infusing into your bloodstream to lend the strain's interesting range of effects. At the beginning, a sense of calm dominates the mind, releasing unwanted thoughts and worries to bring about true cognitive release. Then, the buzz resonates through the body, making your limbs feel feather-light as you rise off into physical relief.
A fair warning – the Blue Cookies strain has often been said to be better suited for those with experience using cannabis. Its potent, long lasting effects can be overwhelming to say the least, making it a little difficult to tolerate if you're not entirely accustomed to cannabis just yet.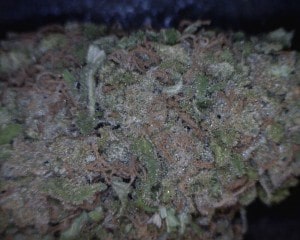 Growing and Processing
As a classic indica, the Blue Cookies strain is a fast finisher, taking just a little less than 2 months to reach its age of harvest. The sweet aroma wafts off of the plant even as it grows, making it especially delightful to have as an indoor plant where its majestic aroma can consume your space. While the strain produces a modest harvest of 4 ounces per foot of height, it does make up for it with its rapid development.
The indica family is known for being partial to cooler climates, so the Blue Cookies cultivar can grow just fine without aggressive heat and sunlight. Nonetheless, it doesn't hurt to expose the plant to as much sunlight you can. In this way, you provide the conditions to help the cultivar reach its maximum genetic potential.
Blue Cookies boasts a complex cannabinoid profile which is made apparent by its dense layer of trichomes. For this reason, it makes a suitable choice for extraction, providing the full benefits of cannabinoids for which cannabis is used in the first place. Best used as the raw material for full spectrum oils, Blue Cookies does lend a bit of bitterness that's often better tolerated by veterans and purists.
Who Is It For?
The soothing effects of the Blue Cookies strain make it a powerful sedative strain that's developed specially to calm your nerves and drift you off into thoughtless bliss. Laced with the decadent flavor of cookies and sweet berry, the delectable cultivar doesn't fall short of expectations, taking you through a sensory experience you won't soon forget.
Ideal as a night-time strain, the Blue Cookies herb is powerful to say the least, so those with more experience with cannabis stand a better chance to enjoy its benefits. Nonetheless, taking the herb in smaller doses can help highlight its flavor without overpowering your system beyond your control.
For cultivators and amateur farmers, the Blue Cookies strain delivers a fast harvest that can help you produce a fat profit within a short period of time. And while it may produce a bitter extract, its dense cannabinoid profile makes it well worth the try. So, if you're hoping to produce your own brand of full spectrum cannabis-derived products, the Blue Cookies strain can be a smart starting point.